Dear Olga
Here is the History of the Mexican Sangha, very short and new!
In 2015 HH Gangteng Tulku Rinpoche comes for the first time to Mexico on a private invitation on my side. and he asks me to start with a group of people a small Sangha to begin the Pema Lingpa linaje in this country
In 2016 we had the first retreat :With Lopon Phurba Dorji from Crestone : The retreat was based on: Ground, Path and Fruition, also he thought the Ngondro and the Ri Wo Sang chod as well as LNG Empowerment
Part of It was hold in my House and another part at the top of the volcano Popocatepetl.
In 2017 HH Gangteng Tulku Rinpoche comes back to teach Korden Rushen and Trekchod, we had 130 people. From different countries: Canada, USA, Taiwan, Singapore, Thailand, France, Rusia, Ukrania, Estonia and of course Mexico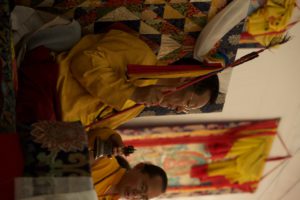 In 2018 HH Gangteng Tulku Rinpoche comes back to give the same group of student the third stage of the Kunzang Gondu teachings: Tögyal
In 2019 We had the Honour to have Lopon Phurba Dorji again, this time he gave Tsa Lung to a group of 20 mexicans, this took place in my house, and was at the end of March 
Thank You
Lots of Love
Lupita
PS
See you soon in Poland.