Message from His Holiness Gangteng Rinpoche 
on the occasion of upcoming Drupchen and Festival 2020
The annual Gangteng Drupchen will be starting from 19th of September till 26th of September 2020 (iron male mouse year).
During the time, there will be various puja ceremonies performing in different shine rooms in the main monastery as mention below:
1. Guru Tshengye Temple (eight Manifestation of Guru Rinpoche): Lama Norbu Jatsho's Drupchen (Guru Rinpoche)
2. Machen Lhakhang: kuenzang Gongpa Kuendue's Drupchoe.
3. Tshepamay ( Amitayus )Temple : pedling terchoe , Tshethri Dorji tsewang's Drupchoe.
4. Lama Lineage's Temple: Vajra kilaya Drupchoe
5. Dukhang (Great assembly Temple) : soeldoeb lue duenma, (seven chapter prayers of Guru Rinpoche)
6. Chenri zig (Avalokitesvara ) Temple : Muensel Droelma's Drupchoe
7. Mahakala Temple: in three different Mahakala shrine room's there will be performing soelkha (mahakala puja)
These religious functions and recitations are aimed at honoring for world peace and prosperity for all sentient beings and prayers for the covid-19 pandemic to be cured sooner. The covid-19 pandemic has created great misfortune throughout the world, these prayers are dedicated mostly for those who have suffered from the pandemic and to the one who lost their lives to this deadly disease.
During that, continuous butter lamps and tshoks ( Tshok bum- 1,00,000 times tshoks) will be offering to enable the accumulations of good merits in life, and for the betterment and wellbeings of all sentient beings on this earth.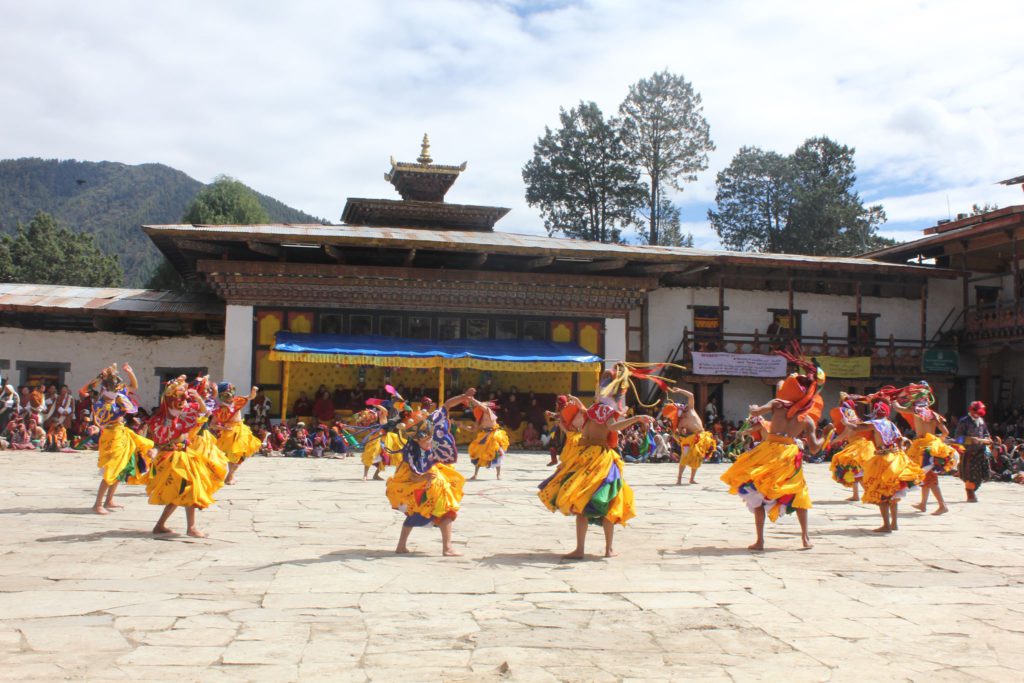 Therefore, all interested individuals are encourage to make your own prayers and wishes to gain merits and longevity for yourself, for your family members and for everyone around. These religious offerings and prayers will be followed by the well-known festival of the country ( The Gangteng Tshechu ) which will be from 27th of September till 1st of October. On the 2nd of October there will be displaying of liberation by seen ( Thongdrell) to the public.
Thank you and Tashe Delek H.E Gangteng Trulku Rinpoche. 8 th of September 2020
To make donations for this Drupchen, please, contact  Yeshe Khorlo coordinators