Lopön Drukdra is a high dignitary from the Gangtey monastery in Bhutan and close confidant of  H.E. Gangteng Tulku Rinpoche. He is the retreat master of Gangtey Shedra in Bhutan. He has been a leading role in the practice of Drubchen in Europe several times.Very soon Lopön la will come to Europe for giving Initiations and Teachings in Yeshe Khorlo Centers in Germany, France, Poland and Russia.
The program of Lopön Drukdra European tour 2019:
09/10/2019 Journey to Germany, Berlin
11/10/2019 Evening teaching on Paling lineage and kuenzang Gongdu cycle
12/10/2019 Kuenzang Gongdu empowerment
13/10/2019 Base, path and fruit (zhi lam drabu monlam)
14/10/2019 visiting Berlin
15/10/2019 Journey to France, Blye
16-18/10/2019 Rest days
19/10/2019 Morning teaching on peling lineage and afternoon introduction to Dzogchen
20/10/2019 Kuenzang Gondu empowerment
21–30/10/2019 Tsa lung retreat
31/10/2019 Journey to Poland
1/11/2019 Evening Kuenzang Gongdu empowerment
2-3/11/2019 Explanation to ngon dro
4/11/2019 Tsa lung, vase breathing
5/11/2019 Tas lung tummo
6/11/2019 Journey to Russia, Moscow
7/11/2019 Rest day
8–14/11/2019 Teaching on the ritual aspects of Lama Norbu Gyatso sadhana (how to do Tsok, traditional  retreat, tromas ect.)
15–17/11/2019 Lama Norbu Gyatso drubcho
18/11/2019 Rest day
19/11/2019 Introductory lecture on Kuenzang Gongdu
20–21/11/2019 Teaching on the text (Practice of Buddha in four periods) especially vase breathing and tummo.Q&A (for thous who have completed 10% of ngondro)
22–24/11/2019 Retreat on Kuenzong Gongdu practices
26/11/2019 Flight from Moscow
For more information and participation, please, contact the appropriate Yeshe Khorlo Center through their website.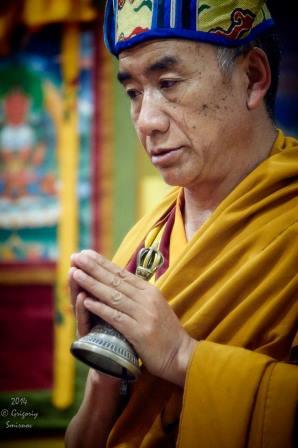 Lopön Drukdra European tour 2019